Maintenance in Bad Bentheim
The maintenance and the most common repairs are not unknown to us. Since 1994 we have been reserving this French "Volks" car, and successfully.
Due to the rule, a Duck is very reliable, provided the maintenance is in good order.
Often we see cars that have supposedly already had a service, where we encounter the standard faults and have to repair them.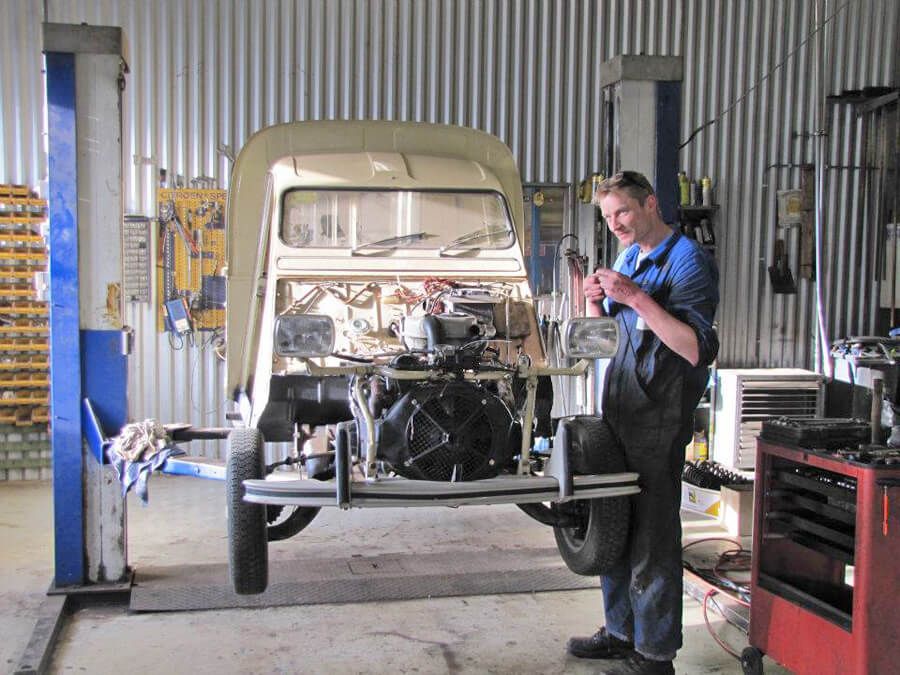 Some points of a big turn therefore involve us in:
The heads are put on tension
The valves are set
Replacing and adjusting kontakt points (or replaced in its entirety with 123-ignition)
Spark plugs are replaced taking into account the electrode distance
Oil filter, Oil and Air Filter are replaced
Oil cooler is cleaned
Cooking oil is checked and replaced if necessary
Petrol hoses are checked for cracks
Handbrake, clutch, brakes and rear brakes are checked and possibly repaired
Lubricate Fusees, towing eye strut, sliding axles
Everything is still securely under the bonnet, such as cables and stove hoses
Etc
Too often we see cars that have had a service where only the spark plugs, oil and oil filter have been replaced.
This extensive "investigation" seems a bit excessive, but the fact is that we have more than 200 ducks in maintenance. And if the bar is winter weather, it hardly or hardly prevents any of our customers from having problems with his or her duck. That says it all. Moreover, once large and good maintenance committed, it is in the following years much cheaper and easier to keep the car reliable on the road.
Because major maintenance often takes some time, we have 1 or 2 loan cars (free) available to our customers. We are also proficient in quick repairs, because we have our own stock warehouse for the necessary parts that are required by default.
Parts warehouse in Bad Bentheim
We have several new common parts in stock in our warehouse as standard.We have also collected many used parts over the course of many years. These are sorted by quality and type of part in our spacious "used parts" warehouse.
It happens every now and then that a part is temporarily or no longer available at all, then we can do a hold in our used parts stock.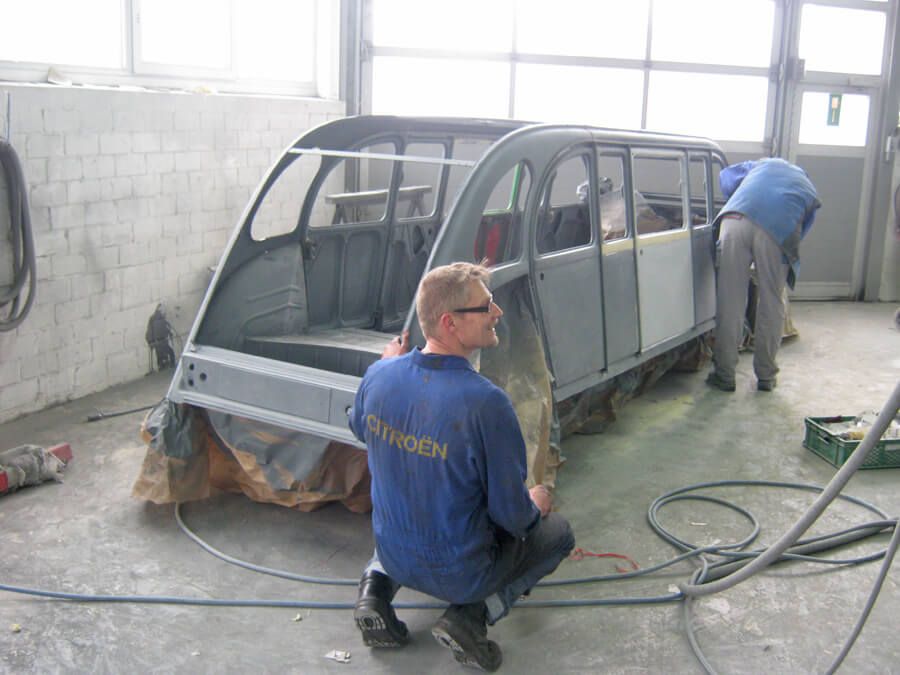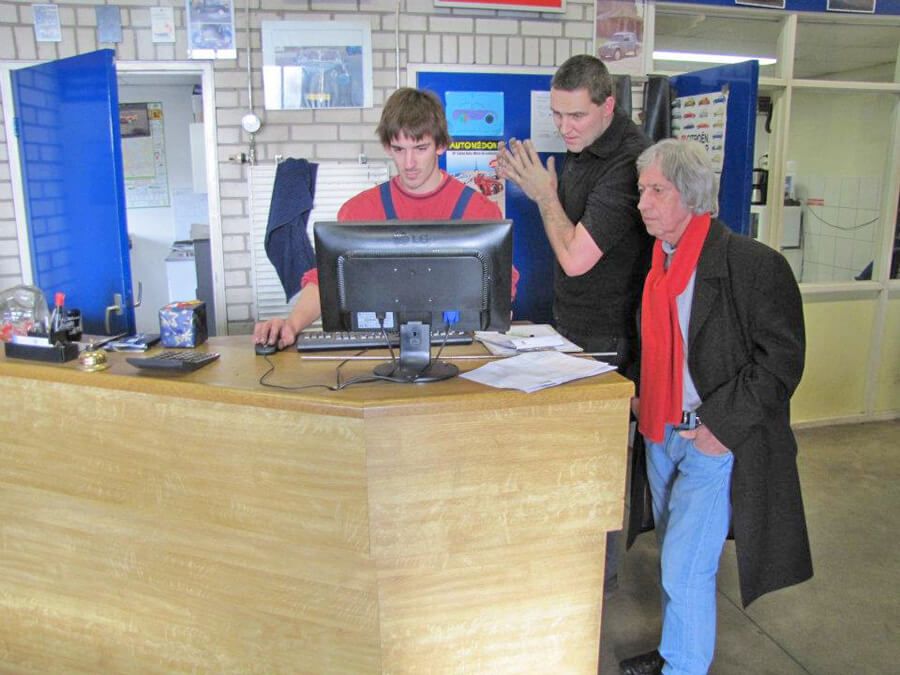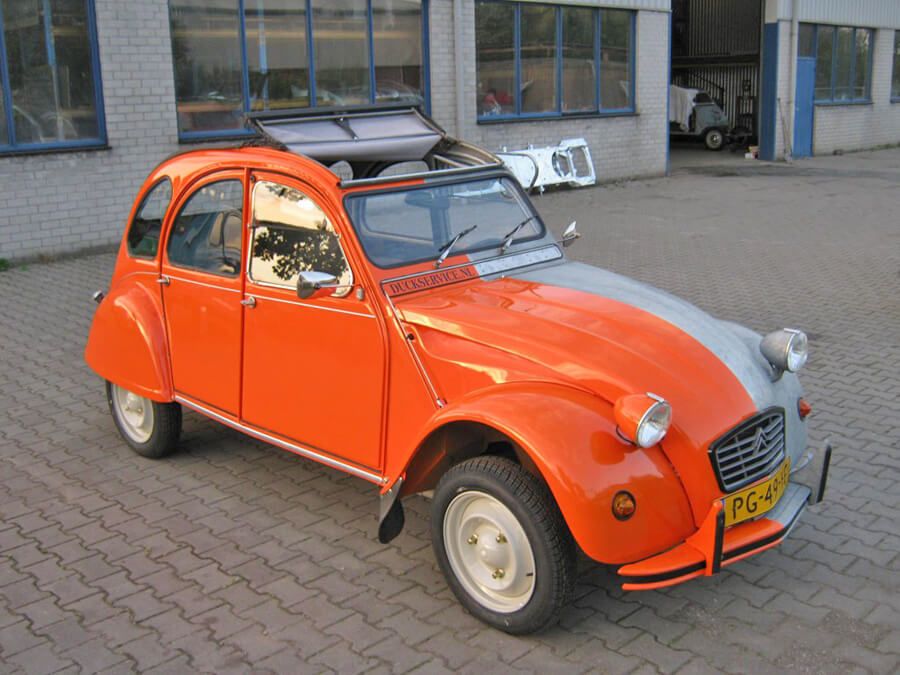 Apk
Every year we approve about 200 ugly ducks, but also other Citroën-like ones (think: GSA, BX, ZX, CX and so on). These are inspected in our workshop in Germany and repaired if necessary, after which they are unsubscribed in the Netherlands.
We approve according to the latest MOT requirements, where we do not unnecessarily weld on the chassis if we do not have to. We are critical of the requirements of safety.b! I.e. A tyre with a tight 1.6 mm profile that is still good just before the MOT requirement, but does not contribute to a safe Duck, will be replaced in consultation with the customer.
We also approve other Citroëns and possibly other brands. But if you have another brand of car, it is best to contact us. This is due to the different parts and materials required for this.
Restoration of 2CVs in Bad Bentheim
Restoration of 2CVs is actually what we started, and we still do. A complete restoration is only commissioned by a customer, and as a basis we usually take a galvanized carriage and so much galvanized sheet metal (such as mudguards, etc.)
According to our philosophy, we do a restoration well according to our experience and insight, or we don't!
Finally, as a workshop, we are responsible for the end result.
Bezoek ons ook op Facebook.